Air Freight and Cargo Handling
Shipping, either domestically or internationally, is governed by an array of national and international rules and laws. Making the wrong mistake can end with your cargo impounded or seized. Understanding the advantages and disadvantages of shipping with a freight company or handling the shipping details yourself can be the difference in a happy outcome or a financial disaster.
Through our global network of control towers and state-of-the-art technology, we are able to monitor and dynamically react to situations such as adverse weather, additional pick ups or drop offs, or heavy traffic, meaning that your goods are always traveling the most efficient route.
Freight Forwarding
One common means of arranging for your air cargo to get from one place to another is to work with a freight forwarding company such as us – the Canadian Star Line Shipping Inc.. Although we do not own the aircraft on which the cargo is transported, we bundle shipments and contract with the operators of the aircraft for the cargo to be moved.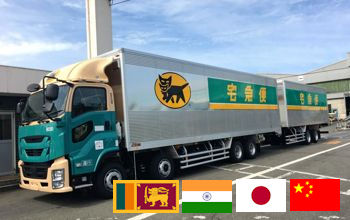 Logistics Ground in Asia Pacific
Operating in all major countries and borders
Extensive services including: linehaul, Pick Up and Delivery (PUD), home delivery, milkrun, cross-border, courier and rail
Singapore to Shanghai cross-border service
China to Europe railway service: Innovative service balancing speed and cost; faster than Oceanfreight, cheaper than Airfreight
Linehaul China: 700 trucks a day, 6.25 million pallets moved yearly
Transportation across Europe
Multi-sector and multi-mode capabilities
Working with Pan-European players and niche specialists
Central control and network monitoring through the Control Tower
50,000 tons managed a year
4,000 shipments a year
20 transport partners
Groupage/LTL/FTL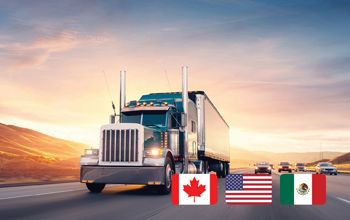 Logistics Ground in North America
Supports U.S. Domestic network through LTL/FTL services
Over 250 scheduled linehaul segments per year
Seven hubs and 20 stations
75 thousand miles a month
100 loads a month
To learn more about our ground transportation operations in North America and how we can support your business, please contact us
Advantages of using Canadian Star Line Shipping Inc
The advantages of using Canadian Star Line Shipping Inc. as your freight forwarder has many advantages.
Speed and Flexibility: Today's business environment is fast-paced and the least delay can cost hundreds if not thousands of dollars. We at Canadian Star Line Shipping Inc. are professionals who know all the ins and outs of moving cargo. And we know how to mitigate problems and delays. We can often offer you a choice of carriers and classes of shipping.
Cost-Effectiveness: Canadian Star Line deals in bulk shipments with air carriers. Our business is consolidating shipments from many customers into bulk shipments. This maximizes the efficiency of the transactions and can translate into huge savings for their customers.
Regulatory Problems: We act as the agent for their customers when dealing with transportation officials, customs officials, and aircraft operators. Over time they tend to develop relationships with all of these people, which often leads to much more efficient shipping.
Operational Ease: Hiring us as your freight company can give you much more operational flexibility and reduced costs. Most of the time, we can provide you with almost minute by minute tracking of your freight consignment. This facilitates good communication with your customers or with other parts of your company to manage availability and readiness.
Cargo Airlines
Cargo Airlines specialize in hauling freight or cargo by air. Many of these companies are subsidiary divisions of well known airline companies. There are companies that exist solely as air freight companies.
What we offer
Speed and Ease of Use: We accept packages in a number of ways and have drop off locations where you can get help with labeling and declarations from our knowledgeable staff.
Tracking: Almost every air cargo carrier offers an array of options to track your package or cargo from the time it is accepted at their drop off location until it arrives in the hands of someone at its intended destination.
Fast and Dependable: Air freight with Canadian Star Line Shipping is one of the fastest and most dependable means of moving valuable merchandise from one place to another anywhere on the globe. This is especially important for time-sensitive and perishable cargo.
There are disadvantages to dealing directly with an air cargo carrier.
The overriding disadvantage of dealing directly with an air cargo carrier is the cost, especially to smaller businesses that can't make up a bulk shipment to qualify for bulk rate discounts. Typically, freight charges are based on weight, but size may also be a factor. In addition, some air cargo carriers may charge a premium for smaller packages based on the extra handling involved.
Weather can always be a factor in dealing with air cargo. Air flight is at the mercy of weather conditions which can conspire to delay flights despite the best efforts of the air cargo company to cope.
Tips to Successfully Using Air Cargo
If you need to send a package or cargo and be sure that it will arrive safely and securely, on time and intact, you have probably come to the conclusion that air freight is your best alternative. There are a few things that you can do to ensure that your package or cargo makes the journey safely and arrives at its intended destination.
Labeling and Marking: Every package should be labeled and marked appropriate, not just on one face but on two adjoining sides. The labeling should include the name, address, and phone number of the shipper and the intended recipient of the package.
Use the Appropriate Labels: Each air carrier now uses a standardized electronic air waybill. However, each carrier may also require you to use their specific labels on your packages. Make sure that you have all the appropriate labels in the appropriate places.
Include an Invoice or Packing Slip: This is especially important on international shipments. If an invoice or packing slip is not included, your shipment may be delayed by customs officials or worse, confiscated or shipped back at your cost.
Use new and fresh packaging: Reused boxes are one of the biggest problems that air carriers have when handling packages. Corrugated fiberboard is a great packaging material, but the stresses and abuse add up on these containers. A used box may look undamaged but these recycled boxes are more prone to failure than new boxes.
Pack properly and don't over-pack: The temptation is always to get as much into one box as possible. There is a false economy in this approach. An over-packed box is more likely to fail than a box that is properly packed and sealed. Don't be tempted to force products into a box.
Air Freight for Everyone
Shipping air cargo or air freight, depending on how you want to reference it, has become a de-facto standard for shipping around the world. Whether it is your daughter's birthday gift going across the US or a cargo of machine parts destined for a manufacturing facility halfway around the world, air freight is within reach of anyone.
Safe & Secure
You benefit from our experience in delivering effective solutions to the complex global supply chains of some of the world's biggest corporations.
Fast Delivery
You benefit from every innovation, whether it involves a simple extension to our Air and Ocean Freight products, whether it means a development in warehousing.
24/7 Support
All of which explains why you'll find the team of outstanding support at TransCargo ready to apply their passion for solutions in support of your business.